Introduction to our wedding offers
Weddings are an event of celebration. In our quest to share the joy of chocolates and all things delicious, we make custom chocolate boxes for weddings. Cenu Cacao is your one-stop destination for ordering chocolate boxes as gifts for the most glorious event of your life. We also create such chocolate boxes for engagement parties and gifts for your wedding guests.
That being said, our services extend beyond just making chocolate boxes for engagement parties and guests. You can also reach out to us if you would like to give a custom box of chocolates to the wedding couple. Let us know what you would like, and we'll get right on it. 
Your face on a box of chocolates
We believe that the most important thing about a gift is the personal touch of grace attached to it. The couple that's getting married deserves to feel celebrated, and we want to do our part. As part of our custom box of chocolates, we print the happy couple's face on the box. Give us the photo, whether it's the bride and groom, bride and bride, or groom and groom. All you need to do is provide us with their picture, and we'll place it on the box. 
There's no better way of complimenting someone on their happy day than to put your congratulations in words. So tell us what you would like to say to the couple, and we will place it right by their photo on the box. Do you want to go old-school and say congratulations? Or would you like to include a short message to show how happy you are about their union? 
Just tell us what you want to say, and we will print it on the box.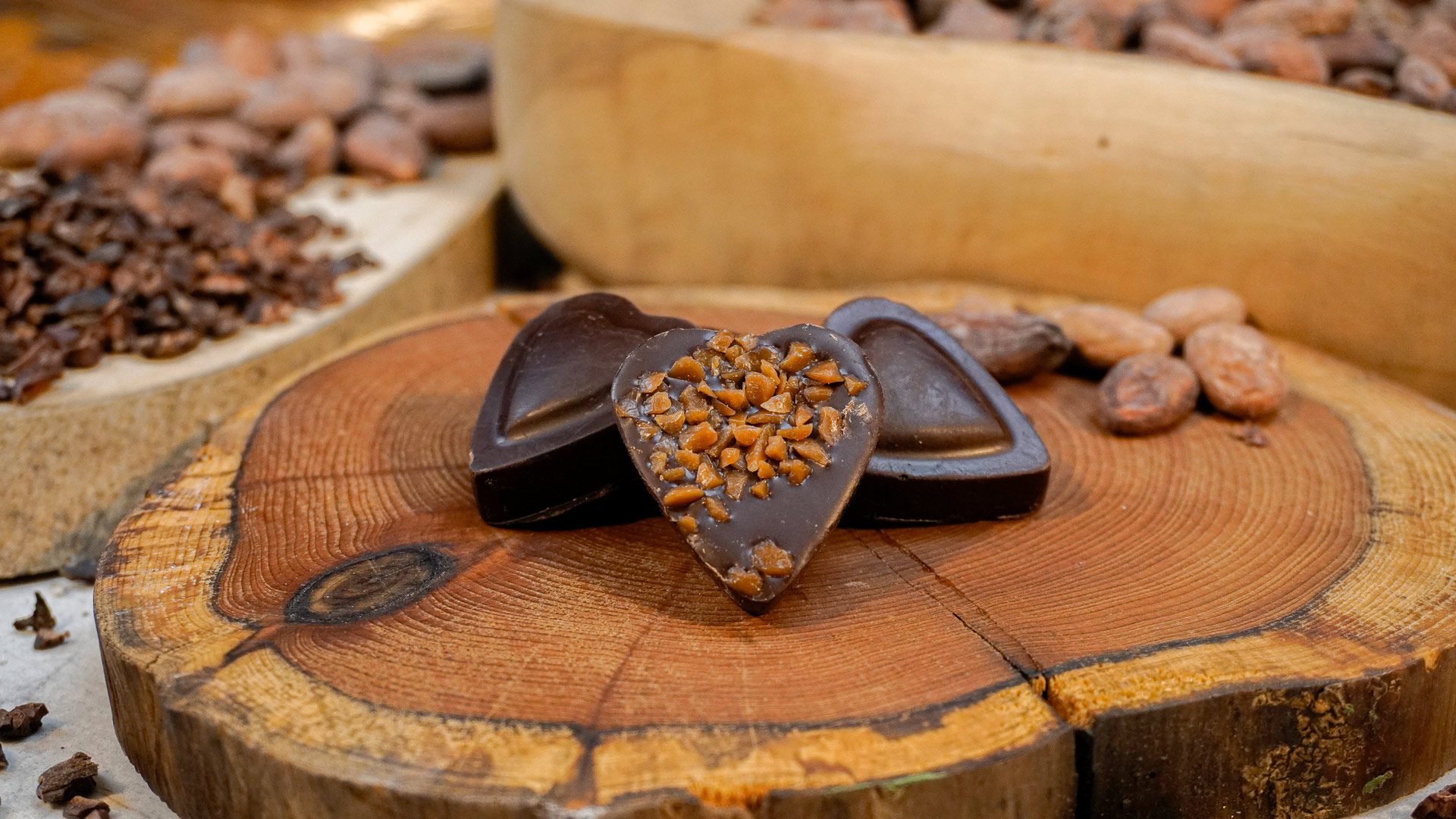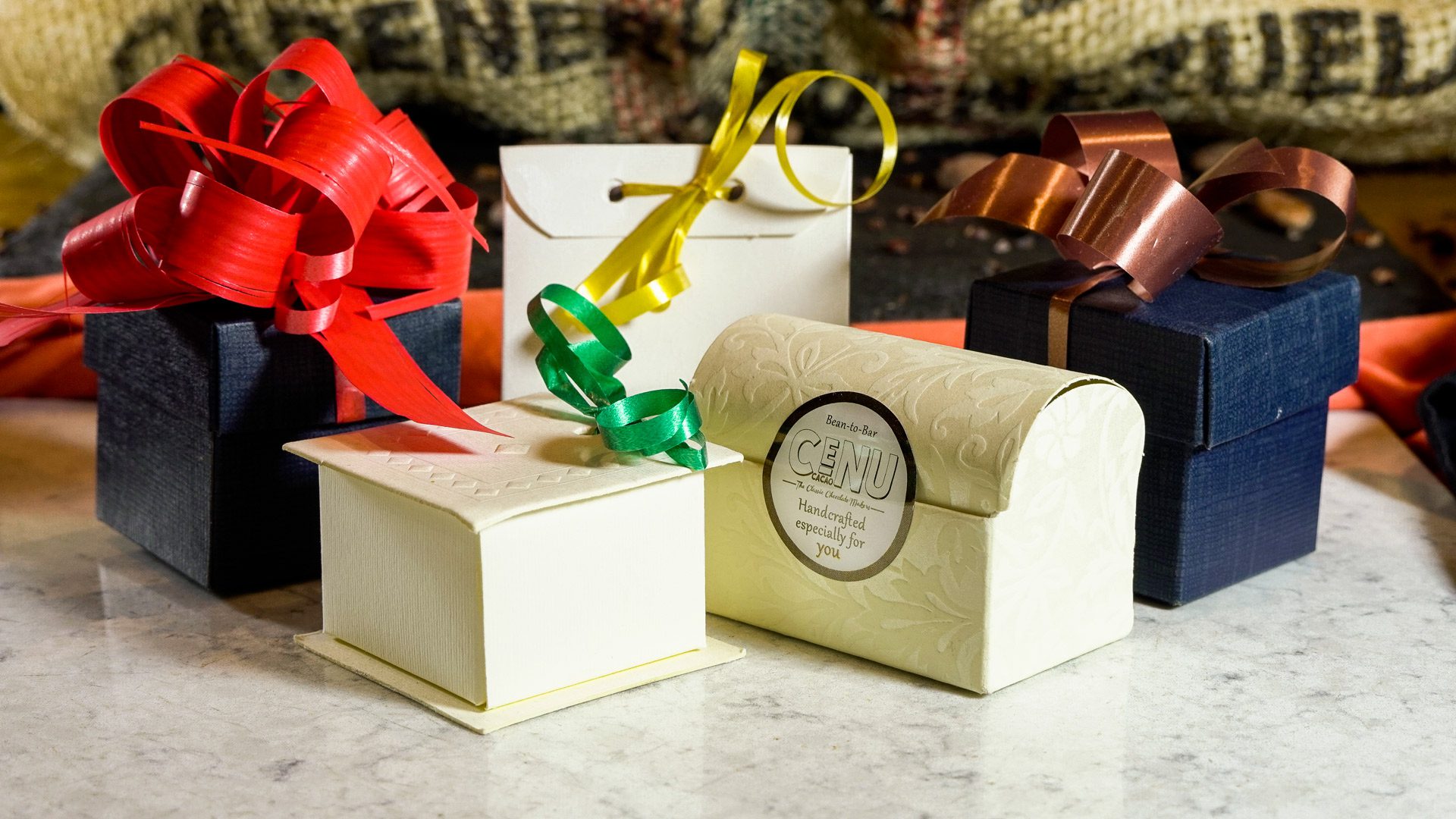 Get your own customised wedding boxes
At Cenu Cacao, we like to think that the best part about celebrating a wedding is the ability to show gratitude to the guests. We want to help you do that by creating a token of appreciation for the guests in the form of custom wedding boxes. Tell us what you would like to place in the box, and we will make a gift that your guests will remember till the end of time. Psst, we can make as many boxes as you would like! With our custom wedding boxes, you can create your own chocolate box for your guests. If you want the happy couple's in there with a custom order of chocolates, you can count on us. You can customize the look of your wedding boxes to look however you want them to look. Tell us everything you need, from the flavour of chocolates to the colour of the ribbons, and we will make it our number one priority to make your wedding day special. 
We also make custom gift boxes for engagement parties. If you want to congratulate the hitched couple on their engagement, we can create a custom gift box catered to your specific needs. Do you want to add a short note to the box? Perhaps a snapshot of a moment of happiness from the couple's life? A bar of special flavoured chocolate that you know they would appreciate? Tell us what you want, and we would love to help you make their engagement day special. Organizing a wedding can be stressful, but we can help you by creating custom gift boxes for your guests. Write to us with the intricacies of your gift, your requirements, how we can contact you, the number of custom boxes you need, the special date, and we will do whatever it takes to make your wedding day a memorable one. 
Our customers satisfaction is our top priority
Best hot choc ever!
izel miray sipahi
November 15, 2023
Incredible little chocolate shop - the chocolates not only look amazing but taste delicious 😋 I would highly recommend if you're looking for some 'proper' chocolate!
Heather Smith
November 12, 2023
We came here 4/5 years ago and absolutely loved the hot chocolate. We visited again recently and it was as good as we remembered. The owner is such a lovely person as well
Alex Halford
November 11, 2023
Beautiful hand crafted chocolates with endless choice. The hot chocolate is the real star of the show… milk, dark or white or a combination if you fancy with different spice options also. The staff are always so welcoming and friendly.
Ella Kenrick
November 11, 2023
The best hot chocolate ever. The chocolates are ace, especially the kirsch cherry. Love this place and the staff there
M. Pugsley
October 19, 2023
Wonderful chocolates, handmade and what a selection. And they also sell coffee which is exceptional.
Mike Lee
October 16, 2023
Absolutely delicious dark hot chocolate. Friendly, helpfully staff.
Piotr S
October 14, 2023
Best hot chocolate you'd ever try
Kieran Williamson
September 21, 2023
Amazing chocolate, lots of choice
Natalja G
September 8, 2023
The best ♥️
Fabrizio Lipari
August 27, 2023
Would give more than 5 stars if possible! The iced chocolate from Cenu Cacao is the best I've ever had, very chocolatey and not watered down. The chocolates are also delicious! It is clear to see that a lot of love and care goes into everything made here. Cant wait to come back!
Amelia L
August 25, 2023
An exceptional quality. The chocolate is flavourful and very well balanced in sweetness. The ladies in the shop are really warm and helpful. They are so benevolent towards customers, it makes the whole experience incredible, they all deserve that 5*. I will definitely come back for some Christmas treats. What a fabulous little shop! 😍
Maëva G.
August 18, 2023
I think so too. 10/10 cold iced chocolate drink. I don't like it too sweet - this one was perfect
G Sica
July 29, 2023
Staff was lovely and chocolates delicious
Ghislaine van der Ploeg
July 18, 2023
We love stopping by every week for a drink or some chocolate. The staff are so friendly, chatty and so welcoming. Every time our family or friends visit we always take them here!
Kate Huddlestone
July 9, 2023
Large selection of products
Carl Bailey
June 20, 2023
This is what hot chocolate is supposed to taste like
Parth Pathak
May 3, 2023
Best hot chocolate in Leamington. I strongly recommend you to try it.
Mar Galiana
May 1, 2023
I took my daughter to Cenu Cacao, as we have passed the store on a couple of occasions when it's been closed. We have stood and stared through the window in awe at the display. Today we went inside!!. My daughter (Mollie) has a learning disability and loves chocolate she was so excited. The staff were so welcoming and patient .... it took her a while to make her choices...and me too!...we came home put the kettle on sat down with our beautiful chocolates and we were not disappointed absolutely delicious. An indulgent luxurious treat worth every penny. We will definitely be back ❤🙏
Anne Marie Moore
March 14, 2023
Ella Jayson
March 11, 2023